I let you know a little bit about Frankie de Jong. He is one of the most talented young midfielders in the world. FC Barcelona got lucky to sign him from Ajax Amsterdam and de Jong arrived in Camp Nou on July 1st, 2019. De Jong will be in Barcelona through to 2023/24.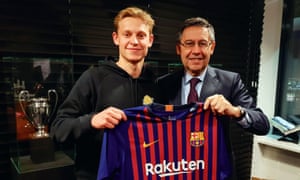 FC Barcelona and Ajax reached the agreement for a versatile midfielder with 75 million euros. The cost is not including 11 million in variables. It was being a fantastic price for a young player.
The president Josep Maria Bartomeu and the CEO carscar Grau were personally involved in closing the deal in Amsterdam. There were many big teams need Frenkie de Jong to play with them. He is a player who understands to manage the theme of the game. And FC Barcelona needs this kind of player to be more offensive and prevent their characteristic.
Many observers of football believe that Frenkie de Jong must be a precious asset for FC Barcelona.
Welcome to Catalan, young gun!